Nan and Marc Burton, Turku

Harmonious Finnish-American kitchen

When Nan and Marc Burton retired, they moved all the way from The States to Finland. Fueled by the need for a quieter life and Nan's Finnish-American roots, the couple has made Turku their new home. When it came to renovating the flat and buying a new kitchen, their choice was clear: Noblessa.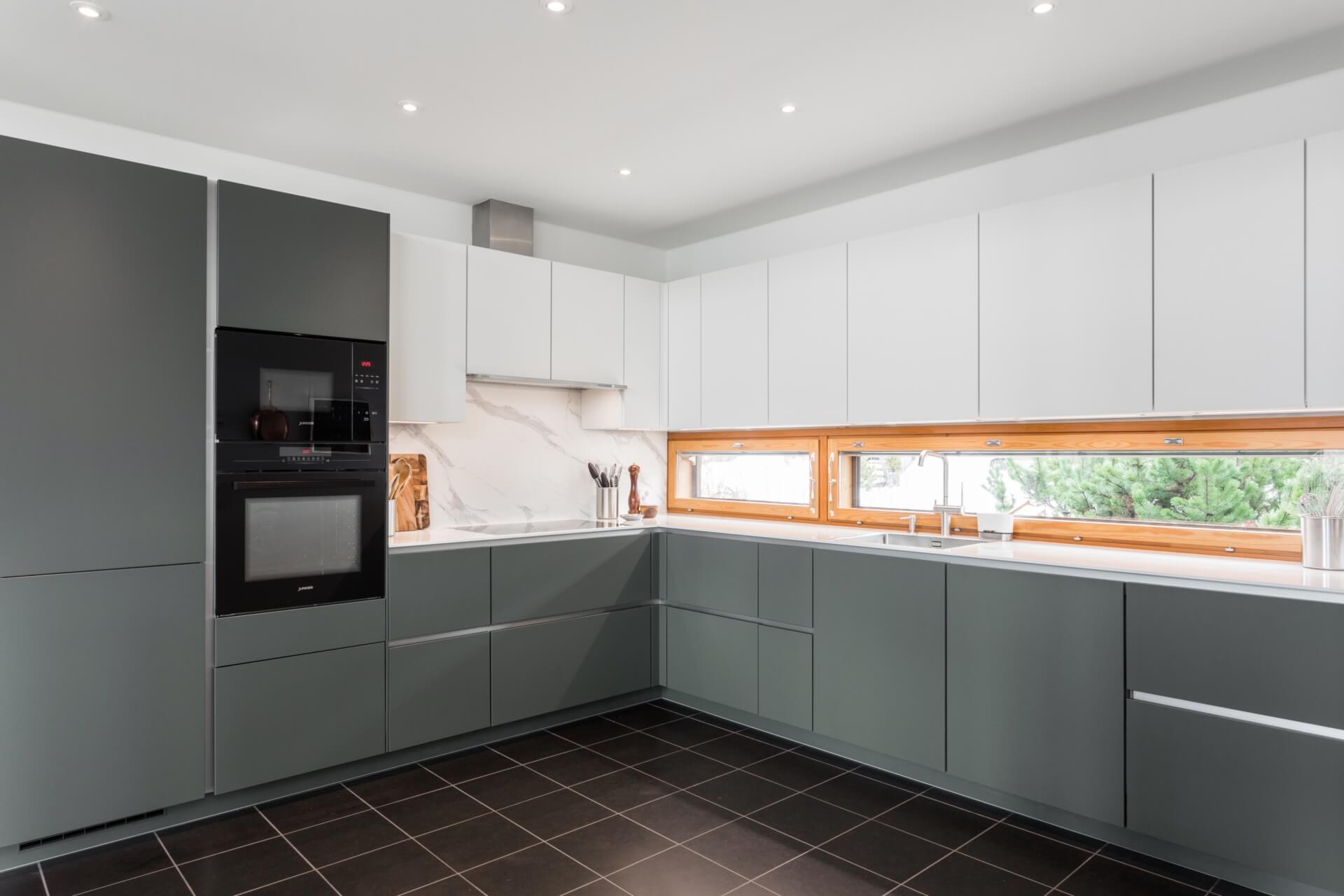 The Burtons bought their flat in Turku in April 2022, more than six months before their actual move. It was a bold choice, since they hadn't even gotten their residence permits yet. Having worked with other house renovation projects before, they managed to carry out renovations on the flat while still staying in The States.
There was one little surprise, though. After arriving to Finland, Nan and Marc saw their flat and its kitchen for the first time since lighting renovations. Suffice to say, they literally saw their kitchen in a new light, and saw it needed to be updated.
– We both thought "Oh-no! We need to improve our kitchen!".
The kitchen was 15 years old and it showed. It also lacked some features that the avid cooks need:
– Marc is the chef and I am the baker in our family. We wanted more functional storage, brighter countertops, and modern kitchen technology, Nan explains.
The couple hired an interior designer in Turku Finland, Tuuli Merla from Maricken, who helped them with the furniture and design work. She recommended Noblessa's kitchen for their new home. After visiting Noblessa's store in Turku, run by family business Silkkitimpurit, Nan and Marc were convinced of Noblessa's top German quality.
– Anssi Soiniitty from Noblessa Turku suggested ways we could achieve our dream kitchen. He was extremely thorough, methodical and detailed. Every step of the way was carefully considered. He offered solutions to our needs. We wanted a high-performing quality kitchen, and that's what we got with Noblessa.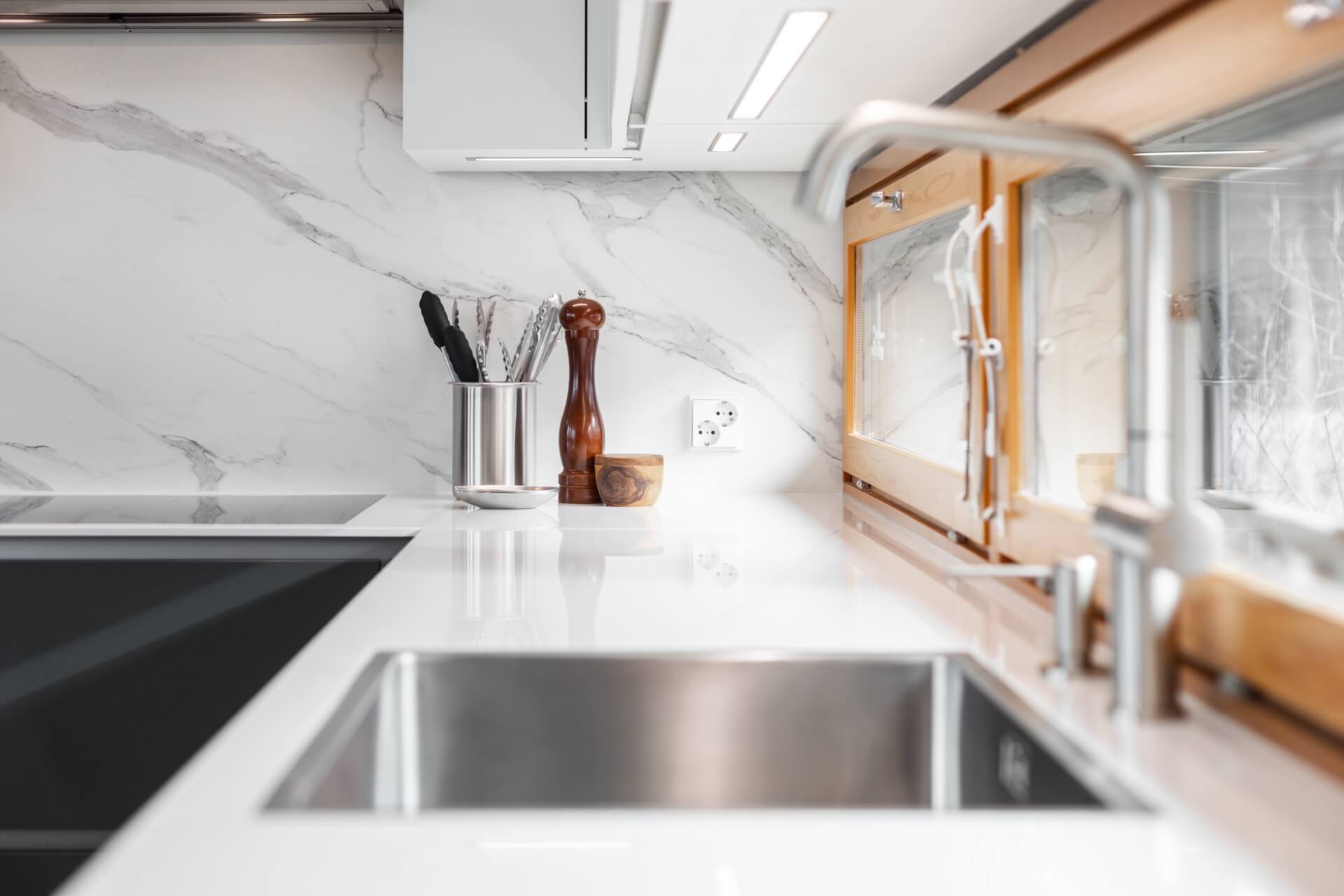 Green and white delight
Now retired, Nan and Marc are ready to enjoy the peace and quiet that Finland has to offer. Marc worked in commercial interiors for many years and did architectural interior design for large Silicon Valley companies, and Nan was chief of staff to a C-level executive in a tech company, so they were familiar with construction and had built several homes before.
Their original kitchen idea was to go for a Scandinavian wood look, but after seeing other options at Noblessa's store, they decided on the handleless and ultramatt Divine kitchen in green and white.
– Not all white, because we didn't want it to look like an igloo. We also didn't want a statement kitchen but more of a clean and casual but functional look that blended in with the home's decor", Marc adds.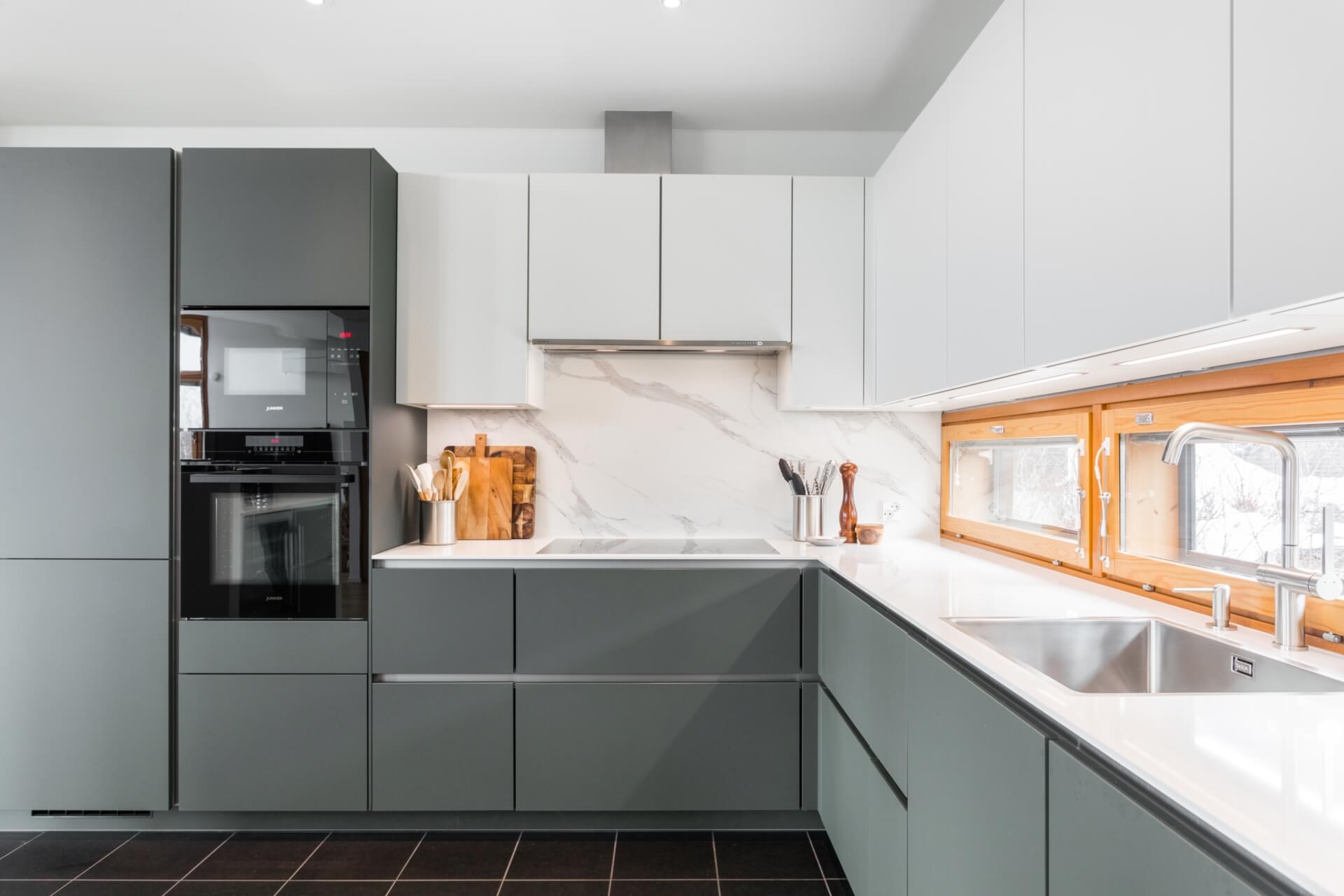 The white upper cabinets give the open kitchen an airy and light look, while dark green cupboards add more contrast and compliment the green view outside the kitchen's window. Anti-fingerprint coating is a practical choice, which is easy to keep clean and looks stunning.
A little kitchen island separates the kitchen from the dining area, adds more storage space and serves as a coffee station with all the appliances. The niche cladding with Noblessa's new Venato Bianco marble reproduction and white quartz countertops give the kitchen a prestige backdrop.
As for appliances, the kitchen now has a large Junker induction stovetop and Elica's extractor hood. Both are integrated, so you can hardly see them. Also hidden inside a tall cabinet wall is a pantry storage.
– We do a lot of cooking and we need a lot of pantry storage. The old kitchen originally had two refrigerators, but we got one larger and taller refrigerator and turned one of those tall cabinets into a pantry, and it's perfect. Also the craftmanship of the installation was very good.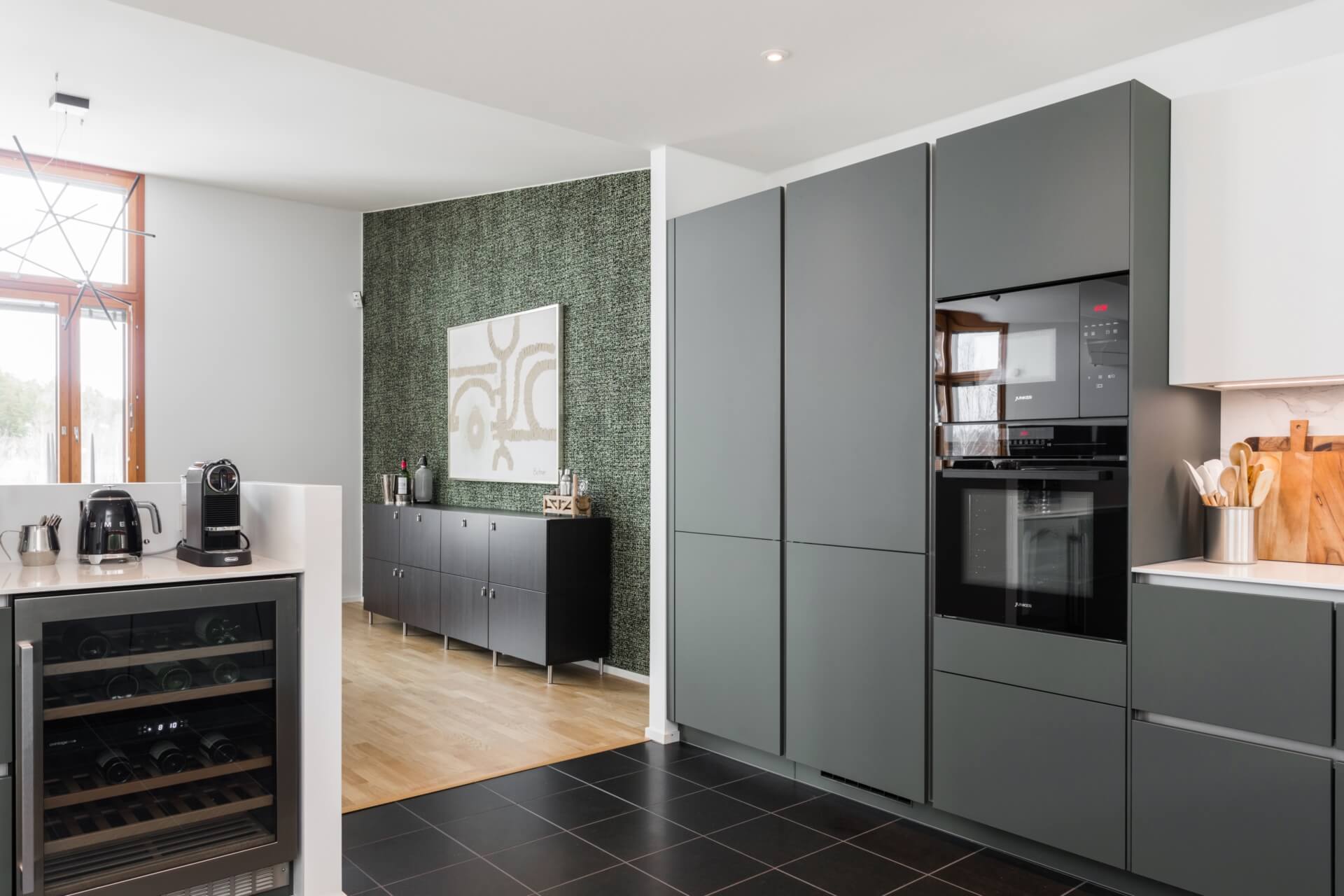 A green accent wall greets visitors in the living room area and matches with kitchen's green cabinetry. It's not minimalistic, but willfully stylish – a mix of green scenery and timeless furnishing that brings the outdoor inside. A home to stay and settle down.
When they are not cooking Italian, French, Japanese, Thai, Mexican or classic American dishes or trying out Finnish Christmas casseroles in their new Noblessa kitchen, Nan and Marc are enjoying the local nature and culture. Nan is honoring her Finnish-American heritage with intensive Finnish lessons three times a week, and Marc is planning trips across Finland.
– We still need to unpack the shipment from The States that came just a few weeks ago. It feels like a miracle to find a spoon here. So we are slowly settling in. All in all, we would rate Noblessa a strong 9 ½ out of 10. There are always a few hiccups in renovation projects, but it's how they're handled that matters. Anssi was active and problem-solving. We are really happy with our new kitchen.
Photos: Katri Hiukka
Image gallery